Italian Art, Cities, and Culture Experience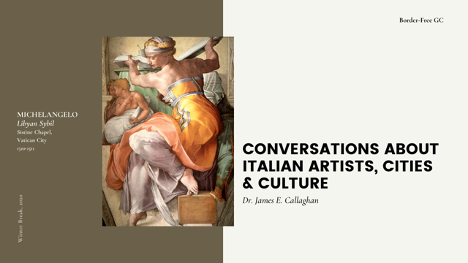 Winter 2021 Border-Free Opportunities

"Hotheads, Divinities, Murderers, and Technical Wizards:
Conversations about Four Italian Master Artists plus Cities and Culture in Italy."
Are you already dreading having to stay home for this holiday season?
Join Dr. Callaghan for a Border Free GC experience learning more about Italian art and culture.
When: Tuesday and Thursdays from 10:00 to 11:30 a.m. December 1 through 22, 2020.
Where: Zoom. Click HERE to register!
Join
Dr. James Callaghan
for a wide-ranging series of conversations about four of the greatest masters of Italian Renaissance and Baroque painting - Michelangelo, Raphael, Caravaggio, and Titian - plus the cities and regions that they lived and worked in. Leveraging virtual technologies you will visit Michelangelo's Sistine Chapel and the famous "Raphael Rooms" of Vatican City, follow the trail of spectacular – and controversial - paintings that Caravaggio left throughout the south of Italy while on-the-run from authorities, and marvel at the technical and stylistic innovations produced across the very long career of the Venetian master, Titian. Along the way, you will discover how painters learned their craft and how paintings and frescoes (murals) were created, plus details of the genuinely fascinating lives of these four exceptional artists. No previous knowledge of art history is required. Espresso or cappuccino is optional but will further add to your enjoyment.
For more information or questions reach out to
Dr. Callaghan
:
james.callaghan@gcsu.edu
Michelangelo,

Eliud, Sistine Chapel, 1512

Raphael, Plato, and Aristotle,

School of Athens, 1509-1511

Caravaggio,

Raising of Lazarus, c. 1609

Titian,

Ranuccio Farnese, 1542