Semester and Yearlong Programs
Long term programs provide students the opportunity to study at a university overseas for a semester or full academic year with the advantage of immersing themselves in a different culture and possibly a foreign language. Participants will develop independency and the opportunity to learn another culture from a new perspective. These programs can satisfy major/minor classes and are typically taken in junior or senior year. Participants rarely take core classes in a long term program because most countries do not have core classes in their curriculum. One of the best ways of learning a language can be during a long term program because the participant will be immersed in the language.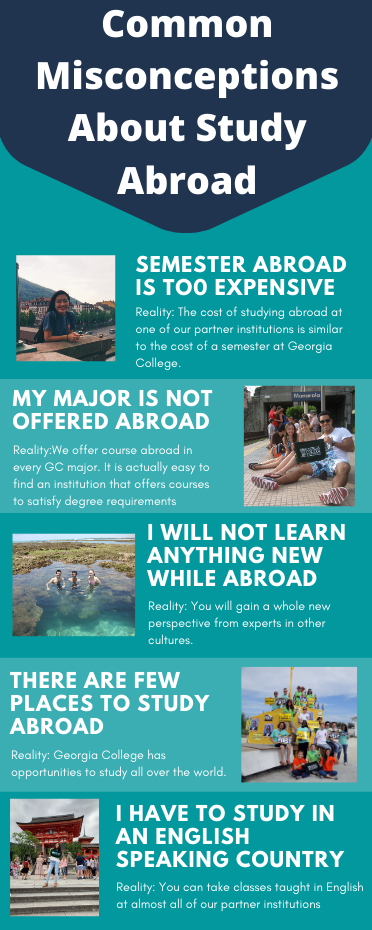 How is this different from a summer program?
A summer or short term program typically combines classroom instruction with an international context while staying abroad for a small period of time in a group setting. A semester or long term program allows for the participants to be completely immersed in the culture while they live in the host country for an extended period of time. Participants will most likely be studying at another university taking classes there like they would be doing at GC. Apart from the time spent abroad, one of the biggest differences for a long term program is how much independence the participants have as they travel individually or in small groups rather than a cohort of student studying together.
What is the difference in an exchange and a provider program?
In both types of semester programs participants take courses at a university abroad with local faculty.
With most of our
Exchange Partners
, participants pay tuition to GC and living expenses, airfare, food, and other in country costs are paid a la carte directly to the host institution or service provider (such as airline, landlord, grocery, etc.). In this model, individual participants enroll as exchange (transient) students at the host institution, taking courses offered by the institution. This is the most affordable study abroad experience as the cost is very similar to that of on-campus study. Most programs are offered for the full semester or academic year, though some options for shorter stays exist.
If there is not an exchange program that works for a student, Georgia College has selected four high quality outside organizations (Providers) to provide additional semester opportunities to our students. These are referred to as our direct billing partners. These organizations will invoice Georgia College for the participants' program fees, which are then posted to the participants' accounts as a large tuition bill. These programs tend to be packaged and offer a range of courses. In this model, individual participants enroll as transient students at the host institution choosing from courses offered by the host institution. As these programs vary, please visit the provider's website for full details on inclusions, courses, and other details.
More details for each opportunity can be found through the program search or by meeting with an adviser at the International Education Center. Email
studyabroadinfo@gcsu.edu
to set up an appointment with a study abroad adviser.

How to apply
For Semester and Academic Year programs, participants will need to submit an online application and then a second application for the proposed host university or program, pay all required deposits, pay insurance fees, and complete the course approval form. In some cases, participants will need letters of recommendation, arrange for a language evaluation, and schedule an interview with the Assistant Director of Education Abroad in the International Education Center. This process from start to finish takes much longer than applying for a short-term program. While it is never too early to start the process, we recommend beginning the search and application process for a semester experience at least six months in advance.