International Week
International Week 2019


Throughout the Week of October 21st
International Film Festival
- The World Languages and Cultures department will be showing five films in the five languages offered at GC over the five-day period from October 21-25. The first four films will be shown at 6:00 pm, and the Friday film is scheduled for 3:00 pm. All showings are free, and will take place in Peabody Auditorium. Each film will include an introduction by one of our language students and a Q&A session following the film, also led by a student.
Monday October 21st
International Photo Contest -
Eight winning photographs have been chosen. Winners will be announced at 5:00 pm during the Photo Contest Reception in the Library Atrium. The winning photos will be on display in the library throughout International Week.
Tuesday October 22nd
Study Abroad Funding Workshops -
Students looking for financial support for a study abroad program can attend a funding workshop at 2:00 p.m. Pell-eligible students should plan on attending the Gilman scholarship workshop at 3:00 p.m. Both Sessions are located in Atkinson 202.
Wednesday October 23rd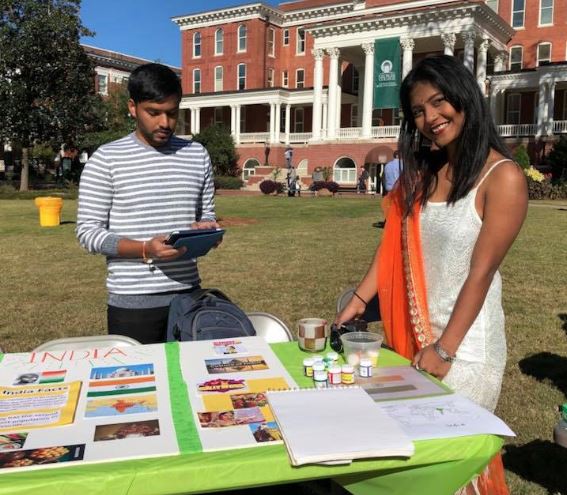 International Fest -
Come meet our international students from 5:00 - 7:00 P.M on Front Campus! Entertainment includes: GC Sassy Cats, Thunder mascot, Chick-fil-a Cow, student performances and introductions, and presentations by GC student organizations on important global themes and topics. Food from the International Coffee Stand will be available, along with cotton candy, and popcorn, plus a s'mores fund-raiser by Gamma Sigma Sigma! The first 100 students get a free t-shirt. Hosted by the International Club, SGA, Gamma Sigma Sigma, the Department of Art, the Spanish Club, and many other GC student organizations, including the Latino Student Association, the Panhellenic Council, and Phi Kappa Phi, plus the Office of Sustainability and Campus Kitchen.

Art Lecture - The GC Department of Art presents a presentation by José Clemente Orozco Farías, famed artist from Coyoacán Mexico. The lecture presentation will take place in the Ina Dillard Russell Library (Pat Peterson Museum Education Room, Heritage Hall) from 5:30 – 6:30 p.m.

Thursday October 24th
Boren & CLS Scholarships Workshop -
Boren & Critical Language Scholarships (CLS) provide funding for students who study critical languages while abroad. Sessions are located in A&S 272 at 2 p.m.
Friday October 25th
Global Chef -
The Max is hosting special chef Michal Fabiszewski of Poland from 11:00-2:00. Chef Fabiszewski will be serving tapa-sized Polish dishes for sampling by guests. The selections will be labeled in Polish with English translations.
Study Abroad Mini Fair -
Bobcats Abroad Ambassadors will table from 11 a.m. - 1 p.m. at the Max promoting study abroad opportunities throughout Europe
Strolling Accordionist
playing Polish music: The Max, 11:30 am – 2:30 pm. Sponsored by the Department of Music and the International Education Center.
"The Pop Culture of Poland."
15-minute presentations by Dr. Bill Risch (History) at 12:00 noon and 1:00 pm. University Banquet Room.
REMINDER
:
Tuesday October 29th
Passport Fair
- The International Education Center will host a Passport Fair in collaboration with the U.S. Department of State and the Atlanta Passport Agency from 10:00 a.m. to 2:00 p.m. The event at the Bone House is open to the public for any individuals wishing to apply for, or renew, a U.S. passport. Passport agents will collect application forms and processing fees, verify documents and photos, and answer questions about the process. Passport-sized photos may be taken on-site for an additional fee of $20. Due to the popularity of this event, the scheduling of an appointment is highly recommended.
Schedule an appointment
.
For more information, email
studyabroadinfo@gcsu.edu
or contact 478-445-4789